Dear Friends,
I hope you are doing well and know that we need to be in each other's prayers in these challenging times. I encourage you to pause and make your own list of those you want to pray for in your heart.
I had a good conversation with Sandy Wagner, head of the Sunman Food Pantry. The pantry has been busy, but not overwhelmed. So far, donations have been good, but we should anticipate that the needs will continue. Folks coming to the pantry must wait in their cars. Volunteers come (like the old car hops at A&W), ask how many persons are in the home, and then groceries are brought curbside. We can be proud to be part of this outreach!
Your Church Council will meet this Wednesday May 6th to discuss plans for worship when services reopen, addressing questions of social distancing. We hope to have our first service on Sunday May 10th at 10:30am (no Sunday School).
Looking ahead, our Sunday School is not planning to have Vacation Bible School, but has scheduled a family event for July 15. This will be the Silly Safari Animal Show, and possibly an ice cream truck in the parking lot.
In conclusion, for a bit of humor, I found a wonderful little book entitled "Comic Epitaphs". This is a collection of grave markers from New England cemeteries. Here's one that gave me a chuckle: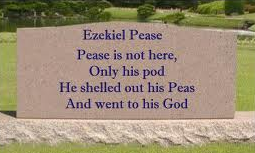 With affection,
Reverend Dave